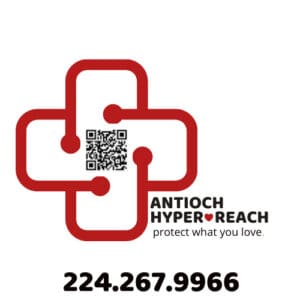 Antioch First Fire Protection District, Antioch Township, and The Village of Antioch have partnered to bring a FREE emergency alert system to residents; Hyper-Reach. This telephone-based mass notification system will be used to inform Antioch residents about local emergencies, hazards and other threats. Hyper-Reach is fully operational and ready for Antioch residents to enroll.
The new emergency system will provide rapid notification of hazardous and urgent situations using a mix of telephone calls, text and email messages, as well as TTY/TDD service for the hearing impaired. The system sends thousands of messages to geographically targeted households in seconds, and simultaneously delivers to a larger audience via social media.
"Our job is to protect the citizens of Antioch as effectively and cost efficiently as possible." Said Jon Cokefair, Fire Chief, First Fire Protection District Antioch. "We are confident in Hyper-Reach as a strong and secure vendor. This new capability will help protect, inform and safeguard our citizens. Our team is excited about this program."
The Hyper-Reach service will alert users about weather and environmental hazards, criminal activity, and missing persons.  All Antioch residents are encouraged to enroll. There are five simple ways to activate Hyper-Reach:
Scan the QR code:
Call: 224-267-9966
Text: "alerts" to 224-267-9966
Tell Alexa: "Alexa, enable Hyper-Reach."
Visitors to the Antioch area can activate Hyper-Reach using the same steps noted above, but they must enter this address when the system asks for a residency address:
835 Holbeck Dr.
Station #1
Antioch, IL 60002
"We are proud to partner with Antioch Township and The Village of Antioch to bring this solution forward. The more efficient and fast we become at alerting our citizens, the better prepared we can all be to ensure our property, families and lives are protected and safeguarded." Jon Cokefair, Fire Chief, First Fire Protection District Antioch
About Hyper-Reach
Hyper-Reach (www.hyper-reach.com) is a mass notification system with over 15 years of experience in emergency messaging. Hyper-Reach sends messages via automated telephone call, text messaging (SMS), email, and social media, such as Twitter. Other uses of Hyper-Reach include Amber alerts, toxic chemical warning, and armed shooter alerts. In addition to 911 centers, Hyper-Reach is used by law enforcement, education institutions, and corporations. For more information about Hyper-Reach, visit www.hyper-reach.com or call 855-266-8439 (855-2-Notify).